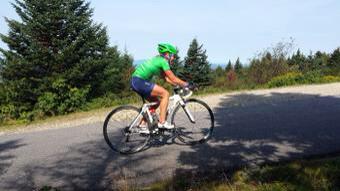 This past Saturday, I went over to Warner to help out with the Kearsarge Hill Climb which is a uphill bike race from the center of the small town of Warner up the Kearsarge Auto road. All told it is a 8 mile, 1700+ foot climb. I've biked it before and it is brutal. Luckily, I was not there to race but just help out before the start.
Amber decided to show up last minute to the race, getting there just in time for last-minute registration. She had done it a couple years ago, but hadn't planned on doing it, until I had mentioned to her that I'd be going out. So she just "shows up". This race is a pretty big deal as many cyclists are competing for the New England Uphill point series so she didn't know how she'd do. She did, however, take a look at what the course record was and wasn't sure that would be in her reach.
I finished helping out at the start then drove up to the gate(4.5 miles into the race) and then "ran" the last 3.5 miles. Ran is in quotes because it was much more like a jog with that first mile similar to that of Mt. Washington. I barely go to the summit before Sam Evans Brown, another Concord racer, came in as the first male. A few minutes later, Amber comes in. First female and 30 seconds off the course record. Not bad for a couple weeks after Timberman!
She is heading up to Vermont this weekend for the 4 day Killington Stage race and I'm interested to see how she does. Good luck Amber!